Overview
San Francisco State University's 122nd Commencement ceremony will be Friday, May 26, 2023, at Oracle Park, home of the San Francisco Giants. This is the seventh year the downtown ballpark will host the more than 30,000 graduates, family members and friends anticipated for the ceremony and celebration.
More information about the May 26 ceremony will be shared throughout the year as it becomes available.
Class of 2023
After years of hard work, you now approach a major milestone in your educational journey —graduation. Your journey has been full of memorable moments including the joy of new discoveries and the satisfaction of meeting challenges both expected — hard classes, and unexpected — a global pandemic! We now prepare to celebrate you and your accomplishments. It is with great pleasure that I invite you and your family and loved ones to San Francisco State's 122nd commencement ceremony.
Your commencement will be held at Oracle Park on Friday, May 26, 2023, with the processional beginning at 5:30 p.m. The Commencement ceremony is the University's tribute to you. It is our way of recognizing the achievement of your degree and your transition to becoming a member of our distinguished family of alumni.
Many faculty members with whom you have studied will join me at the ceremony, as well as our Commencement speaker and other distinguished guests, who will help mark the achievements of the Class of 2023.
Some of you have been able to pursue your studies full time; others have reached this moment by a longer route, combining work and perhaps family responsibilities with your academic program. By individual paths you have each achieved a major goal. You are, now and for all the years to come, one of ours – alumni of San Francisco State University.
Congratulations on the realization of this notable goal and on work well done. I hope you and those close to you will join us for a joyful expression of the University's pride in you. I look forward to seeing you on the field at Oracle Park.
Sincerely yours,
Dr. Lynn Mahoney
President
Resources
Social
Follow us on social as well for any updates and remember to tag your Commencement posts #SFSU2023
Eligible Classes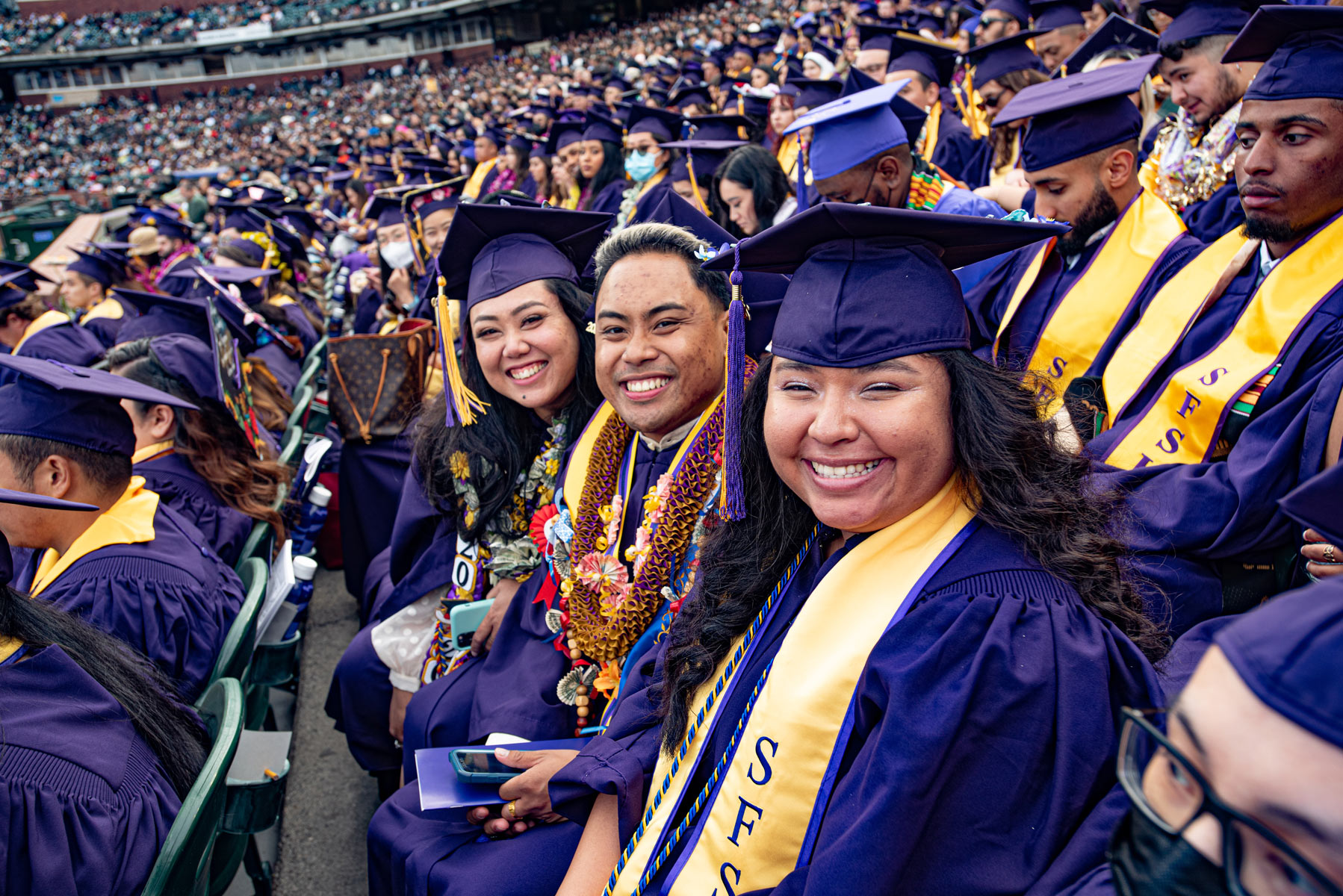 | | |
| --- | --- |
| Summer 2022 | Graduates |
| Fall 2022 | Graduates |
| Spring 2023 | Candidates* |
| Summer 2023 | Candidates* |
*Candidates who apply by April 1, 2023 will be listed in the printed commencement program. Late applicants will not be listed.
Graduating Gators, it's time to make your mark! Help us improve the SF State experience for future students by taking the Senior Exit Survey. Students who complete the survey can win one of 20 Amazon gift cards worth $100.