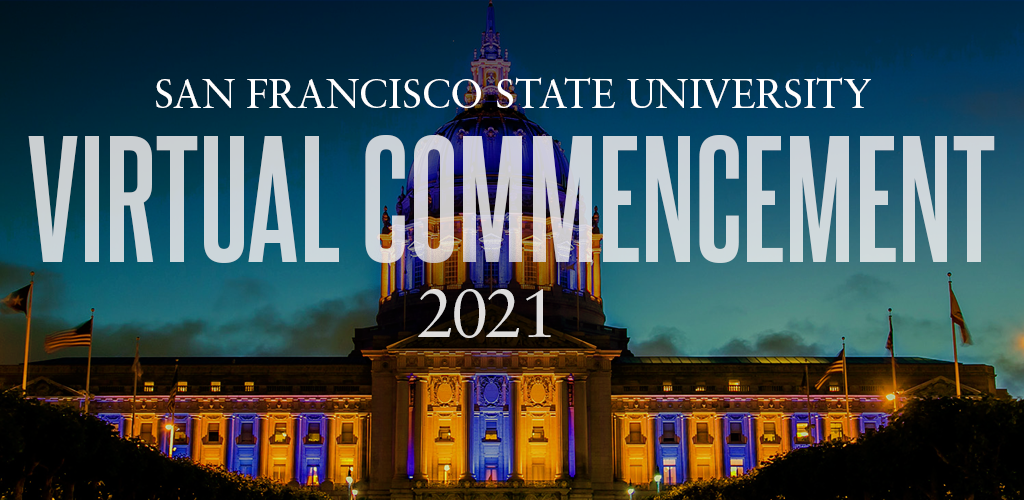 Dear Graduating Students,
First and foremost, congratulations on your upcoming graduation! To complete your studies and graduate is a tremendous accomplishment and your perseverance through all the challenges of the past year to make it to the finish line is remarkable and we are proud of you.
Virtual Commencement: Friday, May 21, 2021
You can stay connected by registering. Registration is not required to watch the ceremony, but it will provide fun ways to interact leading up to May 21 and to stay connected after the special day. 
With your registration you will be able to access the celebration livestream via a link which will be sent to you prior to the May 21 ceremony. 
Don't want to register? Don't worry! After the ceremony the video will be available on the SF State YouTube channel to watch at your convenience.  
To download the Commencement app, search for SFSU Commencement in your app store and download the 2021 version. Join us on social media #SFSU2021
Why a Virtual Commencement? 
You may be asking – venues are re-opening, so why are we sticking with a virtual Commencement? We are unable to change plans due to many factors, including the restrictions on capacity in large venues, public health recommendations against travel, and the fact that many graduates living across the state and around the world would be unable to rework plans on short notice. Any one of those factors would also likely preclude many graduates from having family at Commencement and we know you want your loved ones there to watch you graduate.
We will offer an in-person celebration in the future for all our graduates who have missed out on this important rite of passage (this includes you too, Class of 2020). We share your feeling of loss in delaying this celebration of all that you and our other graduates have accomplished; but we look forward to a day when we can safely welcome you and and your loved ones for a full celebration.
Play it Forward
Play It Forward is the first ever official SF State livestreaming event on Twitch. This event raises money in honor of the 2021 Class Gift campaign, all gifts made during the livestream benefit the HOPE Crisis Fund for current SF State students in need. Guest streamers include staff, students, and President Lynn Mahoney playing games like Animal Crossing: New Horizons and Among Us. Save the date and stay tuned for more information!
April 29, 2021; 6 – 9 PM
A look back at Commencement 2020
View San Francisco State University's first ever Virtual Commencement Celebration!